Editor+select2+ajax set default value to select2 when datatable row selected
Editor+select2+ajax set default value to select2 when datatable row selected
sarath_surisetty
Posts: 54
Questions: 13
Answers: 0
Steps:
Data-table with editor has multiple select2 in form.
->select2 is binded data with ajax.
->when datatables->create is called new form with select2 works fine , shows autocomplete retrieved through ajax and sets value to the text input when option selected from auto fill.
Question:
But not able to set the initial value to select2 when a particular row is selected from data-table.Noticed ajax calls in console for the select2 when edit button is clicked after row is selected.
screenshot :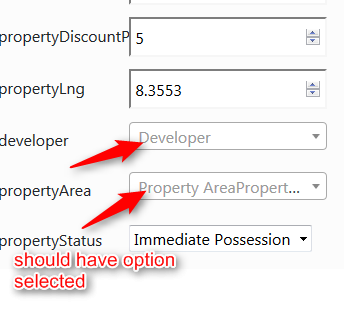 code :
{
                 "label": "Area",
                 "name": "Area.AreaId",
                 "type": "select2",
                 "data": "Area.AreaName",
                 "initialValue":true,
                 "opts": {
              "templateResult": function(data) {

                      return data.text;
                  },
                  "templateSelection": function(data) {
                      alert(JSON.stringify(data.text));
                       return data.text;
                  },
                     "minimumInputLength": 3,
                     "placeholder": 'Area',
                     "allowClear": true,
                     //"initialValue":true,
                     ajax: {
                       url: 'Area/json',
                       delay: 250 ,
                       dataType: 'json',
                      initialValue:true,

                     data: function (params) {
                         var query = {
                               value: params.term

                         }

                         // Query parameters will be ?search=[term]&type=public
                         return query;
                       },
                     processResults: function (data) {
                       return {
                           results: $.map(data, function(obj) {
                               return { id: obj.AreaId, text: obj.AreaName };
                           })
                       };
                   }
                     }
                 }
             }

thanks