Column Search Third Header
Column Search Third Header
rf1234
Posts: 1,828
Questions: 55
Answers: 271
I am trying to get column search work with three headers:
1. Labels and ordering
2. Search Input
3. Select / Dropdown
For 2. and 3. there are examples in the docs but only for the footer. I found something somewhere to make 2. run and it works perfectly fine!
My problem is still with 3. I tried to adapt the code from the footer example and also found some hints elsewhere but the result is not good at all.
I have the following problems:
1. I can't get the Select Input into the third row. Either it sits in the first row and overwrites the labels or I have a third row just with labels and no input.
2. The Select dropdown only works for fields that don't have a lot of client side rendering. For fields from mJoins with a lot of rendering it is just [Object object]. So initComplete doesn't seem to be after rendering and hence does not work for these kind of fields?!
I have attached a screenshot highlighting the issue and part of my oode. Any ideas?
@kthorngren I think you could have a solution for this, Kevin. Or @allan and @colin maybe?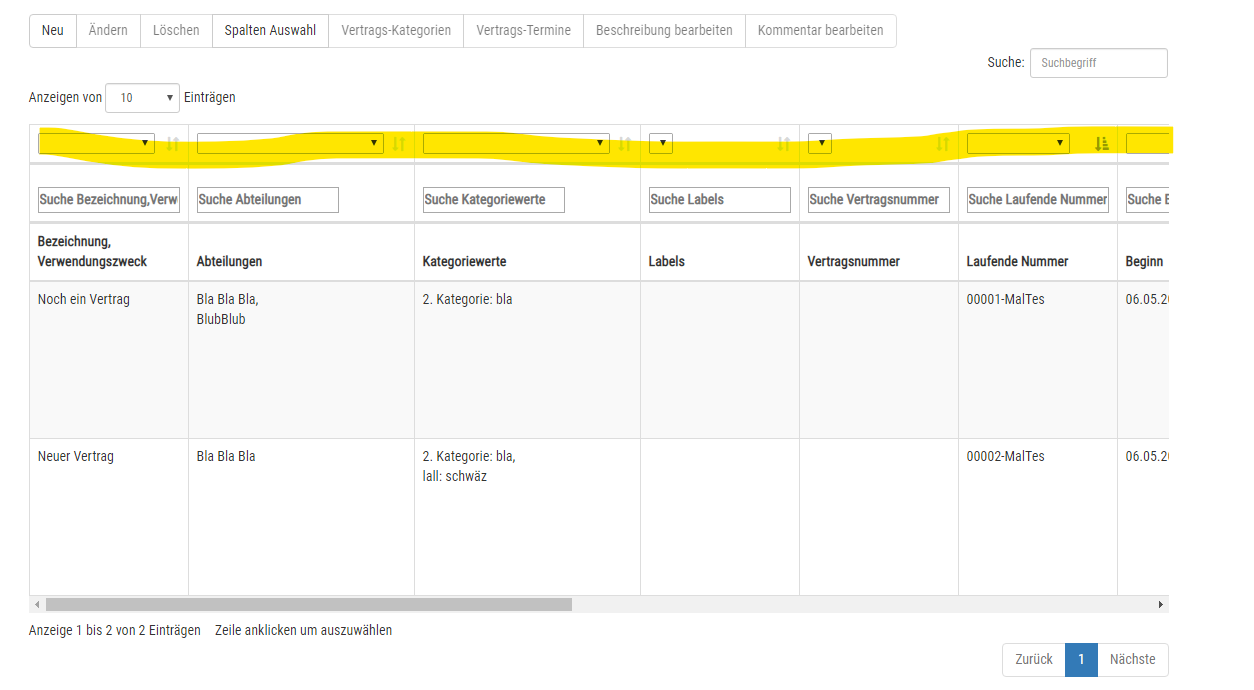 var ctrTable = $('#tblCtrManagement').DataTable({
    dom: 'Bfrltip', 
    processing: false,
    serverSide: serverSide,    //server side only works well with type "POST" !!!
    scrollX: scrollX,
    responsive: responsive,
    orderCellsTop: true,
    initComplete: function () {
        if ( ( ! ctrMgmtServerSidePage ) && ( ! inboxExpPage ) ) {
            var api = this.api();
            // Setup - add a text input to each header cell
            $('.filterHead', api.table().header()).each( function () {
                var title = (lang === 'de' ? 'Suche ' : 'Search ') + $(this).text();
                $(this).html( '<input type="text" placeholder="'+title+'" class="column_search text-muted"/>' );
            } );
            this.api().columns().every( function () {
                var column = this;
                var select = $('<select><option value=""></option></select>')
                    .appendTo( $('table thead tr:eq(2) th:eq(' + column.index() + ')').empty() )
//                    .appendTo( $(column.header('.filterSelect')).empty() )
                    .on( 'change', function () {
                        var val = $.fn.dataTable.util.escapeRegex(
                            $(this).val()
                        ); 
                        column
                            .search( val ? '^'+val+'$' : '', true, false )
                            .draw();
                    } ); 
                column.data().unique().sort().each( function ( d, j ) {
                    select.append( '<option value="'+d+'">'+d+'</option>' )
                } );
            } );
        }
    },

if ( ( ! ctrMgmtServerSidePage ) && ( ! inboxExpPage ) ) {
    // Apply the search
    $( 'table thead'  ).on( 'keyup', ".column_search", function () {   
        ctrTable
            .column( $(this).parent().index() )
            .search( this.value )
            .draw();
    } );
}

<div class="container">
    <div id="ctrManagementHeader" class="ctrManagementPage">
        <h3 style="text-align:justify"><span class="ctrManagementHeader"><?php echo $en?('Your Contracts'):('Ihre Verträge');?></span></h3>
    </div>
    <?php require_once 'contractTimeSelector.php'; ?>
    <table id="tblCtrManagement" class="table table-striped table-bordered ctrManagementPage"
           cellspacing="0" width="100%">
        <thead>
            <tr>
                <th class="noSelectCols"><?php echo $en?('Name,<br>Purpose'):('Bezeichnung,<br>Verwendungszweck');?></th>
                <th><?php echo $en?('Departments'):('Abteilungen');?></th>
                <th><?php echo $en?('Category Values'):('Kategoriewerte');?></th>
                <th><?php echo $en?('Labels'):('Labels');?></th>
                <th><?php echo $en?('Contract Number'):('Vertragsnummer');?></th>                
                <th class="all"><?php echo $en?('Serial'):('Laufende Nummer');?></th>
                <th><?php echo $en?('Start Date'):('Beginn');?></th>
                <th><?php echo $en?('End Date'):('Ende');?></th>
                <th><?php echo $en?('Annual Costs(-) / Income'):('Jährl. Kosten(-) / Ertrag');?></th>
                <th><?php echo $en?('VAT Status'):('USt.-Status');?></th>  
                <th><?php echo $en?('Expiration Follow Up'):('Erinnerung vor Ablauf');?></th>
                <th class="noSelectCols all cnt">Info</th> <!--all = column never hidden-->
                <th class="noSelectCols all"><?php echo $en?('Documentation'):('Dokumentation');?></th> <!--all = column never hidden-->
                <th class="never" id="doneCheckBox"><?php echo $en?('done'):('erledigt');?></th>
                <th class="none"><?php echo $en?('Last update'):('Letzte Änderung');?></th>   
                <th class="hiddenCols" id="updateTime"><?php echo $en?('Update Time'):('geändert am');?></th>
                <th class="never"></th>
            </tr>        
            <tr>
                <th class="filterHead"><?php echo $en?('Name,<br>Purpose'):('Bezeichnung,<br>Verwendungszweck');?></th>
                <th class="filterHead"><?php echo $en?('Departments'):('Abteilungen');?></th>
                <th class="filterHead"><?php echo $en?('Category Values'):('Kategoriewerte');?></th>
                <th class="filterHead"><?php echo $en?('Labels'):('Labels');?></th>
                <th class="filterHead"><?php echo $en?('Contract Number'):('Vertragsnummer');?></th>                
                <th class="filterHead all"><?php echo $en?('Serial'):('Laufende Nummer');?></th>
                <th class="filterHead"><?php echo $en?('Start Date'):('Beginn');?></th>
                <th class="filterHead"><?php echo $en?('End Date'):('Ende');?></th>
                <th class="filterHead"><?php echo $en?('Annual Costs(-) / Income'):('Jährl. Kosten(-) / Ertrag');?></th>
                <th class="filterHead"><?php echo $en?('VAT Status'):('USt.-Status');?></th>  
                <th class="filterHead"><?php echo $en?('Expiration Follow Up'):('Erinnerung vor Ablauf');?></th>
                <th class="noSelectCols all cnt">Info</th> <!--all = column never hidden-->
                <th class="noSelectCols all"><?php echo $en?('Documentation'):('Dokumentation');?></th> <!--all = column never hidden-->
                <th class="never"><?php echo $en?('done'):('erledigt');?></th>
                <th class="none"><?php echo $en?('Last update'):('Letzte Änderung');?></th>   
                <th class="hiddenCols"><?php echo $en?('Update Time'):('geändert am');?></th>
                <th class="never"></th>
            </tr>
            <tr>
                <th class="filterSelect"><?php echo $en?('Name,<br>Purpose'):('Bezeichnung,<br>Verwendungszweck');?></th>
                <th class="filterSelect"><?php echo $en?('Departments'):('Abteilungen');?></th>
                <th class="filterSelect"><?php echo $en?('Category Values'):('Kategoriewerte');?></th>
                <th class="filterSelect"><?php echo $en?('Labels'):('Labels');?></th>
                <th class="filterSelect"><?php echo $en?('Contract Number'):('Vertragsnummer');?></th>                
                <th class="filterSelect all"><?php echo $en?('Serial'):('Laufende Nummer');?></th>
                <th class="filterSelect"><?php echo $en?('Start Date'):('Beginn');?></th>
                <th class="filterSelect"><?php echo $en?('End Date'):('Ende');?></th>
                <th class="filterSelect"><?php echo $en?('Annual Costs(-) / Income'):('Jährl. Kosten(-) / Ertrag');?></th>
                <th class="filterSelect"><?php echo $en?('VAT Status'):('USt.-Status');?></th>  
                <th class="filterSelect"><?php echo $en?('Expiration Follow Up'):('Erinnerung vor Ablauf');?></th>
                <th class="noSelectCols all cnt">Info</th> <!--all = column never hidden-->
                <th class="noSelectCols all"><?php echo $en?('Documentation'):('Dokumentation');?></th> <!--all = column never hidden-->
                <th class="never"><?php echo $en?('done'):('erledigt');?></th>
                <th class="none"><?php echo $en?('Last update'):('Letzte Änderung');?></th>   
                <th class="hiddenCols"><?php echo $en?('Update Time'):('geändert am');?></th>
                <th class="never"></th>
            </tr>
        </thead>
    </table>    
</div>