Button colvis + Bootstrap 3 + colReorder problem
Button colvis + Bootstrap 3 + colReorder problem
tsunamo
Posts: 12
Questions: 1
Answers: 0
Hello, I have noticed that when moving around one column using the colReorder plugin and reopening the column list button the list is not displayed as it should. This is only happening in Bootstrap 3, for Bootstrap 4 or for the default style this does not happen.
Example of the problem:
http://live.datatables.net/lirihode/1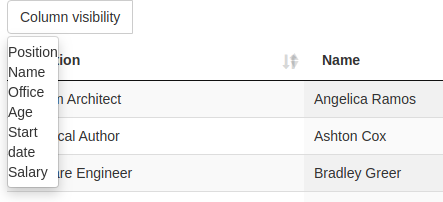 Same code with the standard framework (works correctly):
http://live.datatables.net/kasojiwe/1
Also, besides this problem, in Bootstrap 3 the transition when opening the Colvis button is not seamless.
Thank you in advance,
Alvaro