Misaligned dropdown menu for ColVis after upgrading to 1.10.21
Misaligned dropdown menu for ColVis after upgrading to 1.10.21
After upgrading DataTables from version 1.10.15 with static files to CDN version 1.10.21, generation of dropdown menu for colVis changed which led to wrong placing of dropdown list. List is position on left border of datatable.
This is how it looks: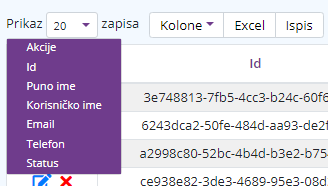 This is old version HTML:


And this is new version HTML:


dt-button-collection class is in separate <div> now and position calculation is wrong.I managed to track the issue down to buttons.js file, issue is somewhere in latest version.
this is generated CDN from download page:
https://cdn.datatables.net/v/bs4/jszip-2.5.0/dt-1.10.21/b-1.6.2/b-colvis-1.6.2/b-html5-1.6.2/b-print-1.6.2/cr-1.5.2/fc-3.3.1/fh-3.1.7/kt-2.5.2/r-2.2.5/sc-2.0.2/sp-1.1.0/sl-1.3.1/datatables.min.js
When I change b-1.6.2 to b-1.6.1 everything works fine.
I won't fiddle with it any more since it's working, just wanted to let you know, and hopefully help anyone if they have similar issue.
This discussion has been closed.