https://editor.datatables.net/examples/api/softDelete showing all fields
https://editor.datatables.net/examples/api/softDelete showing all fields
In set up something like this, basically that works.
But: 2 problems/questions:
1.
I have hidden fields in the editor (company and active).
After once calling the "soft delete" later calls of "new" or "change" or "delete" will show all fields - even the hidden ones. The hidden ones come up with no input-possibility, but still are there: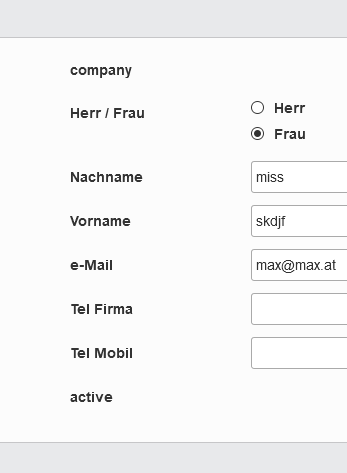 2.
For the hidden field "active" I set a default value "1" in the editor, as new users should not be marked as deleted from the beginning. Now the soft delete should change that to "0" - but this is overwritten by the default value. I could of course leave the default away, and set this on the sql-server, but is there also a solution within the editor?
And a third one: I tried to set up a test case in http://live.datatables.net, but this seems not to work with editor? I copied JS, html with all script-sources and css into live..., but this doesnt work?
Thanks
max
This question has accepted answers - jump to:
This discussion has been closed.