Next Button not working - PageLength not getting set by default
Next Button not working - PageLength not getting set by default
ad824a
Posts: 20
Questions: 4
Answers: 1
Hi Everyone,
I am having an issue with the next button not working for my table. I have determined it is most likely due to the pageLength not being set properly when the table is loaded, but I am not exactly sure how to fix it. In my configuration I have paging: true, pagelengh: 10, and lengthmenu: [[ 10, 25, 50, -1 ], [10, 25, 50, "All"]] (I will link a test case)
I have updated the CSS to highlight buttons that are active. When the table loads, none of the length menu buttons are activated: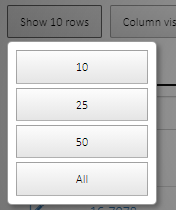 I can manually open the menu and select a pagelength and the Next button will work: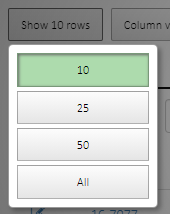 Why is the 10 option not being set automatically by pagelength:10 ?
Here is my test case: live.datatables.net/ginakowo/1/
The configuration for my table is built into the test case... but the buttons aren't being displayed. I tried including the Buttons Library but that just introduced an error at line 0. I assume I just don't know how to use JS Bin, but hopefully it is enough for someone to go on.
Thanks!